Baselworld 2016: the choice of independence
When times are tough, the brands that are still independent pull out all the stops to defend their position. Here is a sampling of their anti-crisis weapons.
What's happening in the world of watchmaking can be compared to the battle between David and Goliath. The comparison may be a little inaccurate, but it does help give an idea of the mood that is currently permeating the market, which has become a complex due to a decline in consumer activity in certain sectors long considered very promising. On this chessboard – it actually looks more like a Go board – each brand occupies a space that it clearly owns and intends to protect from external aggression, particularly from the competition. But in the very high-end segment, where only about 10,000 timepieces are sold per year, every little victory by the independents cuts a bit into the aura of the major brands.
Small companies, like Rudis Sylva, MCT (Manufacture Contemporaine du Temps), Hautlence, HYT, Christophe Claret, Rebellion, de Bethune, and others, are coming up with increasingly wild creations and thereby demonstrating that creativity and complexity are not just the bailiwick of oversized enterprises supported by industrial groups worth billions. Take the Christophe Claret X-Trem-1 in stainless Damascus steel. It reminds us of how this creator of watches knows how to sustain time.
The HMX Black Badger or the Starfleet (top picture), both by MB&F, also push the envelope when it comes to esthetic rules by letting time reveal itself through light and in a manner that will capture the attention of people for whom being different is a way of life.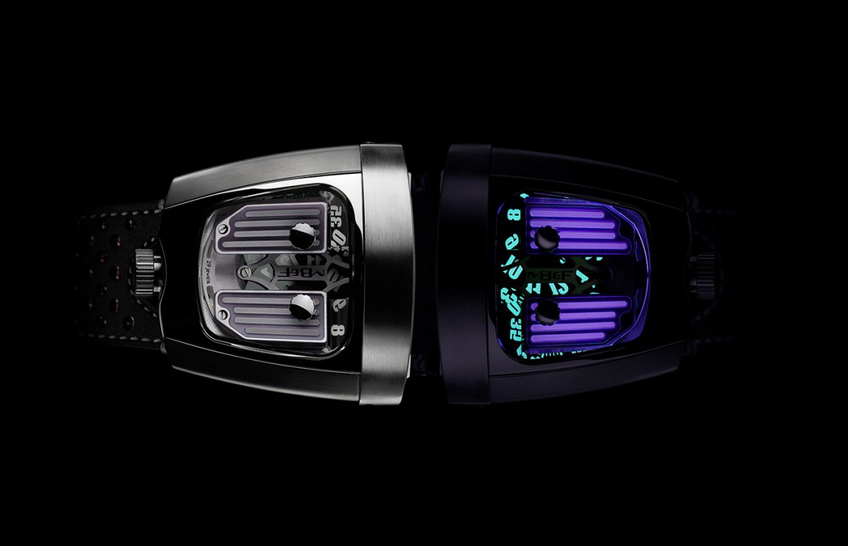 MB&F HMX Black Badger Day/Night view
Just as they did at the SIHH, the independent brands, armed with their sense of playfulness, succeeded in drawing the attention of aficionados and industry professionals thanks to their ability to deconstruct time. The only problem is that a number of factors may prevent some of these brands from returning next year: the erratic economy of these past months, the considerable expense of being at Baselworld, and the presence of some nouvelle horlogerie protagonists at the SIHH. This, in turn, might well have an impact on the presence of the less powerful or famous brands, who will now manage to stick out of the crowd of 288 or so exhibiting brands… or not.