Baselworld 2016: Toys for adults
In the great family of watches, some products are more favoured than others. Those that wake up the inner child slumbering in each man in particular… Below is a little assortment of some of these novelties.
Women say that men are predictable. Watchmakers could say the same since they obviously know how to draw male attention quite easily with products that are known to underscore their masculinity. Filled with this certitude, brand developers are competing intensively to imagine watches and chronographs whose design or functionality might unlock the passion of its "male" owner.
The game of design
In the final analysis, it doesn't take much to break down the resistance of men, who are after all just big kids. A touch of mechanics, a little testosterone, a nice looking woman and wham, bam, thank you ma'am. Let's take one case in point: Hublot chose to initiate those who love watchmaking to mechanical delights by way of the Big Bang Meca-10. Its in-house caliber (called the HUB1201) was entirely conceived and developed in-house. It's a skeletonized mechanical movement with manual winding and a power reserve of 10 days. It boasts 223 components, including pierced metal bridges (some straight and others curved), crowns with indentations, plates, axes and ratchets. This stunning construction is an invitation to go to one's workbench to assemble and disassemble it over and over again. In brief, it's a machine which somewhat resembles the Meccano sets of our childhood and it does reveal the sheer pleasure of doing mechanical things. Faced with all this well organized complexity, it's hard to resist the temptation of taking out one's tool set and performing an internal examination. Obviously, anyone with any sense will abstain since the watch is delivered without any tools and instructions for reassembly. So the idea of becoming a mechanic will have to remain a fantasy.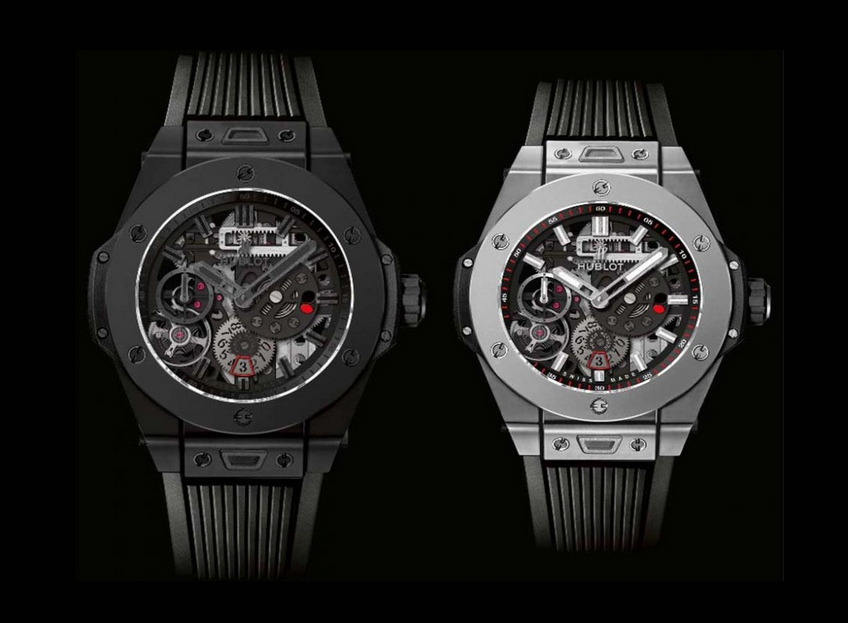 Hublot Big Bang Meca 10, 10 days of power reserve
Formula One drivers
Children, dynamic executives and young forty-year-olds all have dreamt at some time of becoming a fireman or soldier just to show their masculinity. Occasionally they get bitten by the car bug and suddenly feel like becoming Formula One drivers and in particular idolised champions. Daring themselves to go onto cart-racing circuits during corporate outings with their employers, they start to dream about being the next Michael Schumacher, once they have reached adulthood of course. The only problem is that they are serious, married with kids and have to return to the harsh reality of their commitments. To satisfy them and also to spare them of too much frustration, TAG Heuer is launching its Heuer Monza chronograph this year.
This titanium timepiece with a black treatment recalls the original piece from 1976 which was created to commemorate the first world champion title by Niki Lauda driving a Ferrari. It is offered in a 42 millimeter case and is numbered and dated. It runs on the automatic caliber Cal. 17 with a date, tachymetric scale and pulsometric scale. Radical and with a strong graphical identity this watch should have no place finding fans among up-and-coming race car drivers.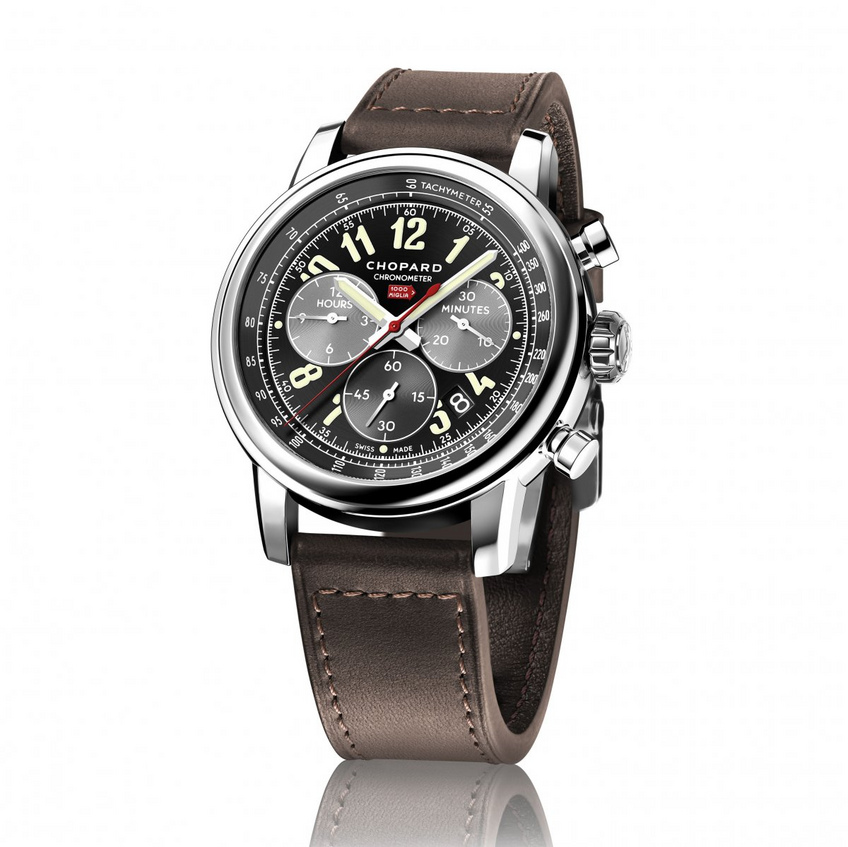 Chopard Mille Miglia 2016 XL Race Edition
The call of the ocean
Effective and affordable, Michel Herbelin's Newport chronograph also stands out since it is riding the wave of a trend towards grey anthracite treatments on the case. For example, the middle case has been given a grey PVD coating which supports the rose gold PVD of the bezel. This timepiece is driven by an automatic mechanical caliber and comes on a strap made of elastogator, a kind of rubber with a crocodile pattern and real stitching. The word REGATE has been engraved on the piece which is bound to draw those who love sailing, an area in which this brand has been staking a solid claim by becoming the sponsor of the Voiles de Porquerolles, a regatta that takes place in the Mediterranean in mid-June.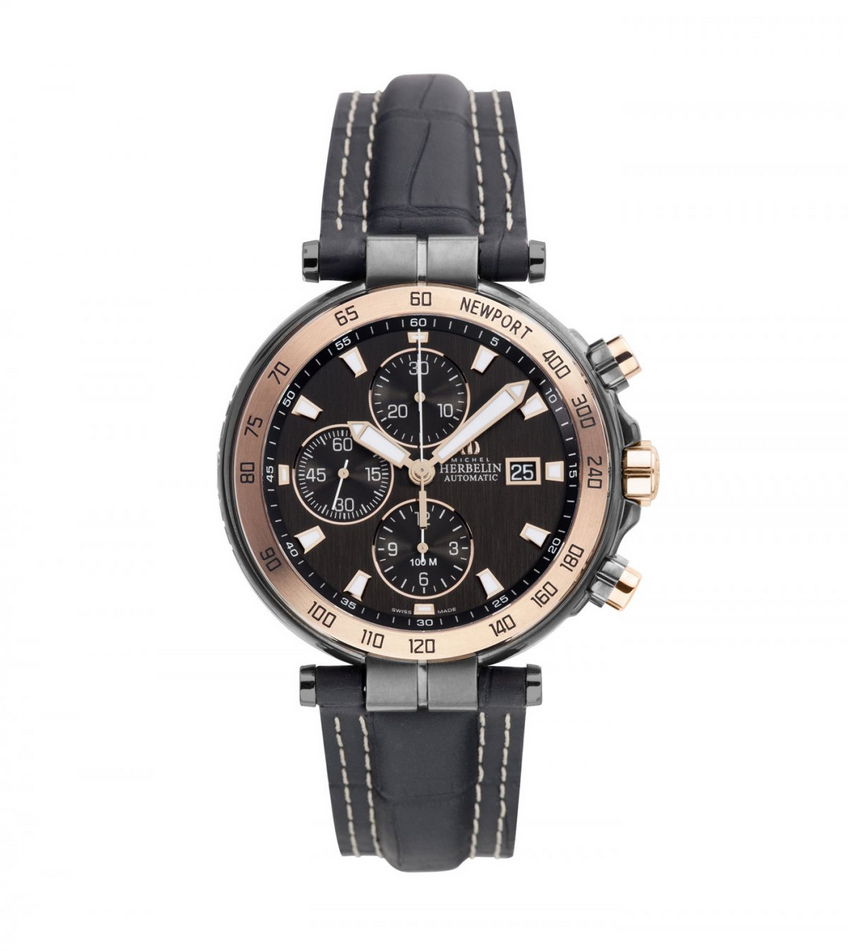 Michel Herbelin's Newport chronograph
Toys that make you rev your engine
At least three products can boast being ones susceptible to kindle men's passion for collectable cars. Zenith came out with the El Primero 36 000 VPH Classic Cars chronograph, then there is the chronograph presented by Eberhard & Co which has always been connected to fine automobile mechanics and finally the most obvious choice, there is the impressive Mille Miglia 2016 RC Race Edition chronograph. The latter flies the Mille Miglia rally colours housed inside a 46-millimeter steel case with the in-house caliber 03.05-C (a mechanical automatic chronograph) and is produced in a limited edition of 1,000 pieces. It comes on a leather strap called 'Suportlo' which in French sounds like "withstands water" because in addition to resembling the leatherwork of traveling trunks of long ago, this strap can be also worn in the rain when driving with the roof down.
By
Vincent Daveau
,
Contributor
Baselworld has just closed on a somewhat somber note due to the recent events in Belgium, and with the distinct sense of having not met all expectations....
By
Vincent Daveau
,
Contributor
On this, the first day of spring, it would seem logical to make way for colors to announce the return of the flowers, in lieu of a return of growth….
By
Vincent Daveau
,
Contributor
The official opening of Baselworld has taken place, and the world of watches is now in the starting blocks, ready to try once again to get past the crisis it...